Common let's have fun!!
Want to let out your inner child spirit? or just want to disconnect from your daily routine either as a student or work (anything you are doing in Seoul lol)? well read the following list of places we recommend you to visit at least once in your lifetime for an memorable time!!
Lotte World
If you haven't heard of this place before, Lotte world is a theme park operated by Lotte Group. This place is perfect for entertainment and sightseeing, in there you will find thrilling rides, ice rink, various parades, folk museum, a lake, accommodations, department stores and a lot more!!
Keep in mind that Lotte World is divided into Lotte World Adventure, a world themed indoor area, and a Magic Island theme outdoors by Seokchonhosu Lake. The Lotte World Adventure is the largest indoor amusement park in the world! At the Folk Museum you will be able to observe cultural items on display dating back 5,000 years in Korean history. As well as miniature villages and a playground. Also depending on the season, at the Lotte World Garden Stage there will be various themed musicals and if you are into K-pop you will want to go to Lotte World Star Avenue!!
Nami Island
We talked about Nami Island before in our blog post about "
Stay in Korea for the Winter
" however we didn't go in further detail about the history. Namiseom Island was formed as a result of the construction of Cheongpyeong Dam. It is a half moon-shaped isle, and on it is the grave of General Nami, who led a great victory against the rebels in the 13th year of the 7th king of the Joseon Dynasty, King Sejo (reign 1455 - 1468). Namsiseom Island is located out of Seoul but it's only an hour away and you can take the subway with no problem!!
In the middle of Nami Island you will see a big grass field of about 316,320 square yards, which features education and training facilities as well as camping sites. If you are into water-sports, there are a lot of activities you can do there such as zip lining into the water, motorboats and water skiing. There is also a theme park with a merry-go-around, shooting range, and a roller skating rink. There are also accommodation for visitors to stay at such as resort villas and bungalows.
For more information click
HERE
!
Everland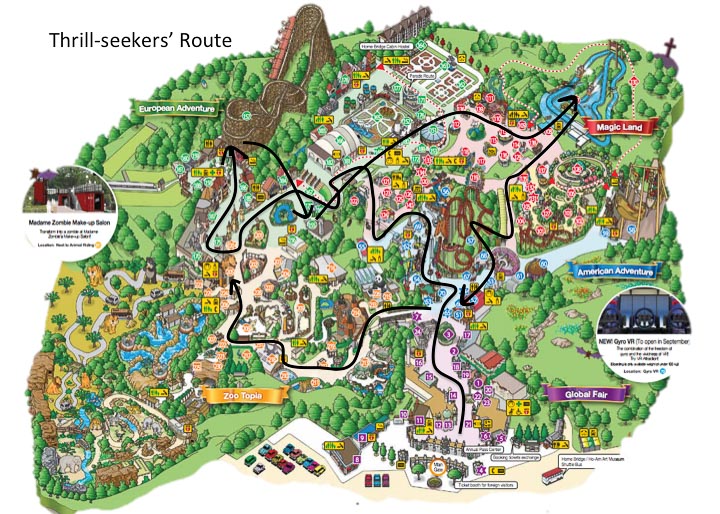 Another popular theme park is Everland Resort!! However it is further away from the center of Seoul compared to Lotte World. Part of the entertainment includes various rides, festivals, theme areas, and a Zootopia!! The diverse attractions are available to enjoy with no age limits, and there are different themed festivals including Tulip Festival, Rose Festival, Summer Splash, Halloween Festival, Romantic Illumination, and much more!!
Two of the most popular rides of the park is
T-Express and Korea's first wooden roller coaster. Their Zootopia is a must-see by many since it exhibits
2,000 animals of 201 species
. Lost Valley opened in 2013 and features the
largest ecological safari world
and offers a tour by amphibious car to see
150 animals of 20 species
. A pair of giant pandas given from the Chinese President Xi Jinping as a symbol of friendship between Korea and China can also be seen at the
Panda World
.
Trick Eye Museum
Like Magic and Illusions?? well say no more and visit the Trick Eye Museum!! The Trick Eye Museum has other businesses around the world, is a "one of kind" painting gallery which combines art with high-end techonology featuring AR (Augmented Reality) effect and 2D/3D illusions. Within the Museum there is an Ice Museum which is filled with objects that are fully made out of ice, such as iced TV, ice kitchen, ice slope, etc. You don't need to purchase an additional ticket for the Ice museum, with one you can enjoy both!!
A great part about this museum is that it stays open everyday from 9 am to 9 pm (last admission by 8 pm), making it popular among couples and tourists!! Outside of the museum you will see a statue which is seen as a landmark to find the Trick Eye Museum!!
We hope you found this information helpful and get the chance to visit any or all of these locations!! We are sure it will be a memorable experience for you, remember to read our other blog posts about living in Korea!!